Esempio corso PLC prof Gottardo. (clicca per vedere il video su youtube)

Esempio cancello a scorrimento degli allievi.

Libro di testo copertina morbida A4      Prezzo www.amazon.it  € 39,94

Spesso sono attive offerte Amazon e il costo scende a 28€ circa. Nota bene, Docenti (con carta docente), allievi con APP18 o bonus cultura spesso possono avere il testo gratis  (vedi offerte di Amazon quando attive).

Let's program a PLC!!! (edizione 2020)

ISBN: 978-1659304008

Copyright

Marco Gottardo (Licenza di copyright standard)

Edizione

Quarta edizione (ampliata e aggiornata TIAV16 ed 2020)


Pubblicato

12 gennaio 2020


Lingua

Italiano

Pagine

590

Formato del libro

copertina morbida A4, rilegatura termica

Peso per spedizione

1,6 Kg

Il libro di testo destinato ad essere il riferimento per  gli ITIS,  IPSIA e l'università'. strumento immancabile per l'autodidatta e i corsi di formazione

.E' il più completo e nello stesso tempo semplice ed efficace disponibile nel mercato. Gratis con carta del docente, App18, Bonus cultura a condizioni Amazon.

Questo libro, edito nel 2020, è l'evoluzione verso le nuove piattaforme software e nuove tecnologie delle reti di PLC. BASATO SU TIA Portal V16, con cenni alle precedenti versioni Simatic Step 7 V.5.6, il MicroWin e il WinCC. Concentra la ventennale esperienza nel campo maturata dall'autore e sostituisce la precedente edizione del 2018 già molto nota e apprezzata dal pubblico. Una nuova impaginazione e la successione con cui si presentano gli argomenti sono ottimali sia per l'apprendimento scolastico sia per autodidatta portando le conoscenze a livello professionale. L'impiego di sistemi HMI programmati tramite WinCC connessi in Profinet e Profibus completa la preparazione del tecnico. Ogni argomento è corredato di numerosi esercizi sia completamente svolti che proposti. Nella sezione programmazione avanzata si interfaccia un motore asincrono trifase a un convertitore statico, inverter, aprendo la strada a tutte le applicazioni reali. Fondamentale il capitolo sulla normalizzazione dei segnali analogici.
New from autumn 2017: PLC programming for foreigners in Italy. Lectures aimed at preparing specialized programmers operating all over the world.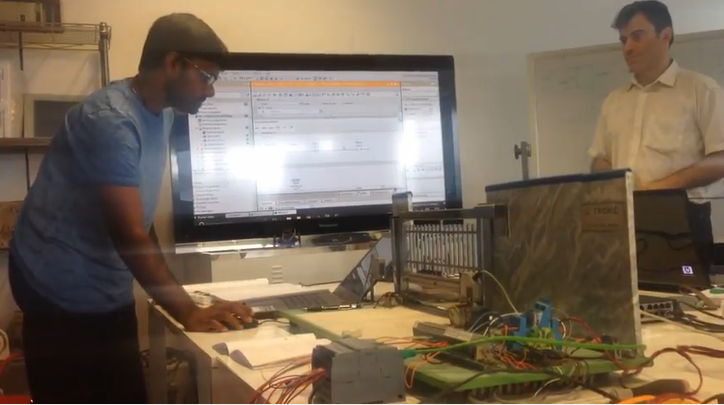 Practical and theoretical contents. Many laboratory tests on Siemens systems. A certificate of attendance will be issued in English. Italian graduate, doctorates and postdoc will also admitted to participate.   Video demo
---
OPC UA esempio CPU211C  V4.4 – KT400 basic – Cliente OPC su computer.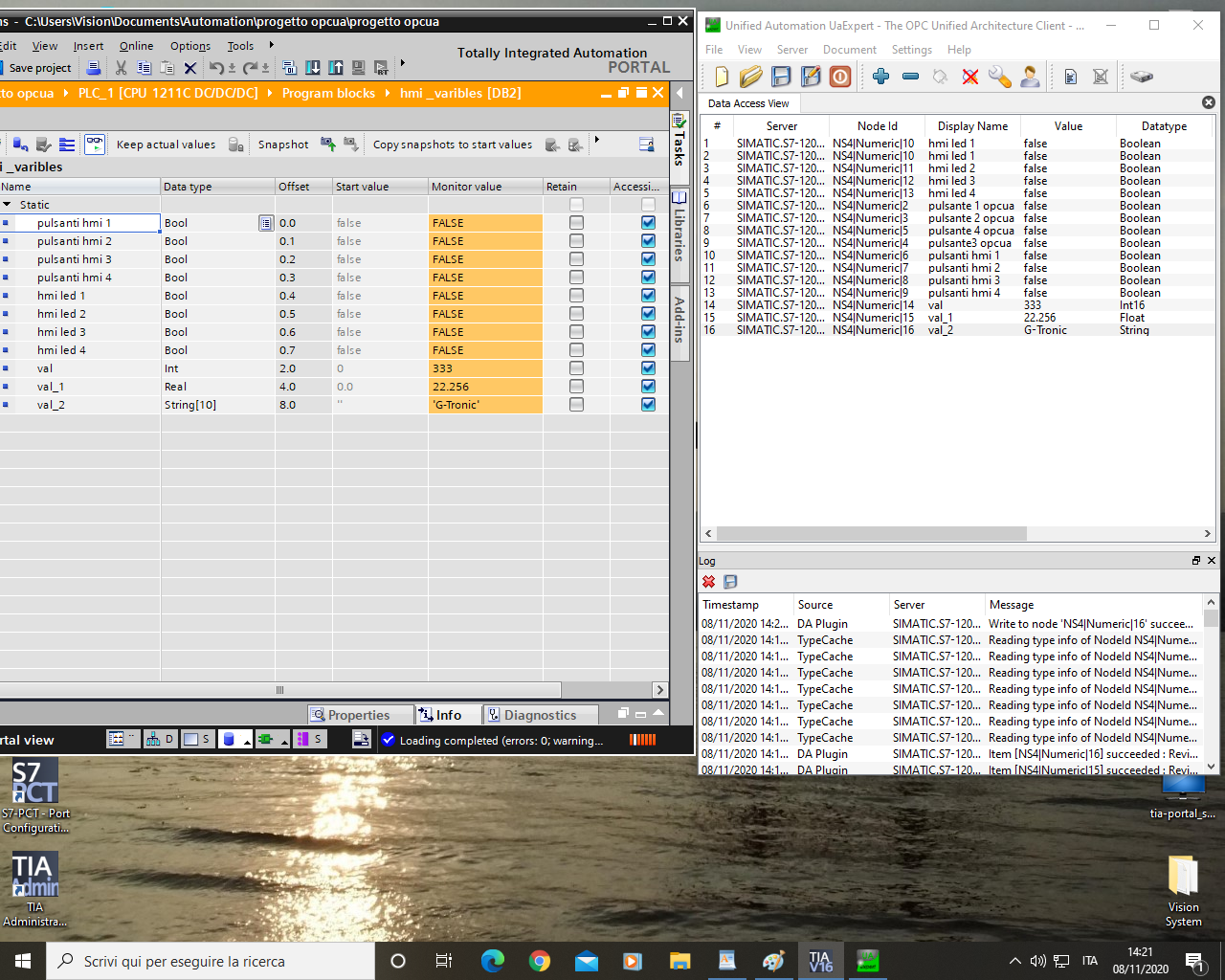 ---
How to control a stepper motor.
The simplest and cheapest solution for the movement of stepper motors, used as fake brushless, in semi-professional applications, consists of the Nema driver motor kits.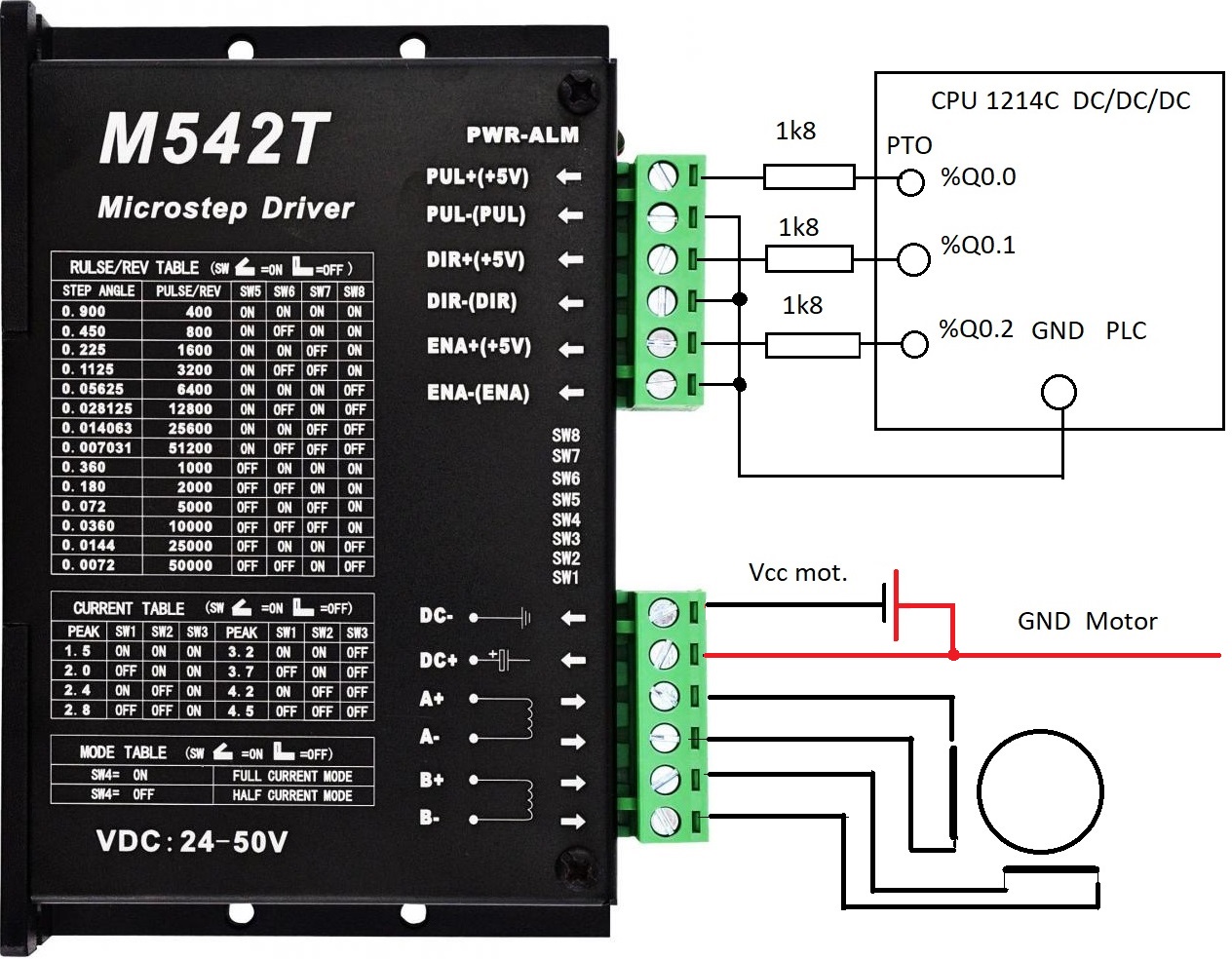 ---
How to control DC motor speed using PWM in S7-1200
These program set up the PWM output in the CPU 1214C DC/DC/DC AG40, V4.4.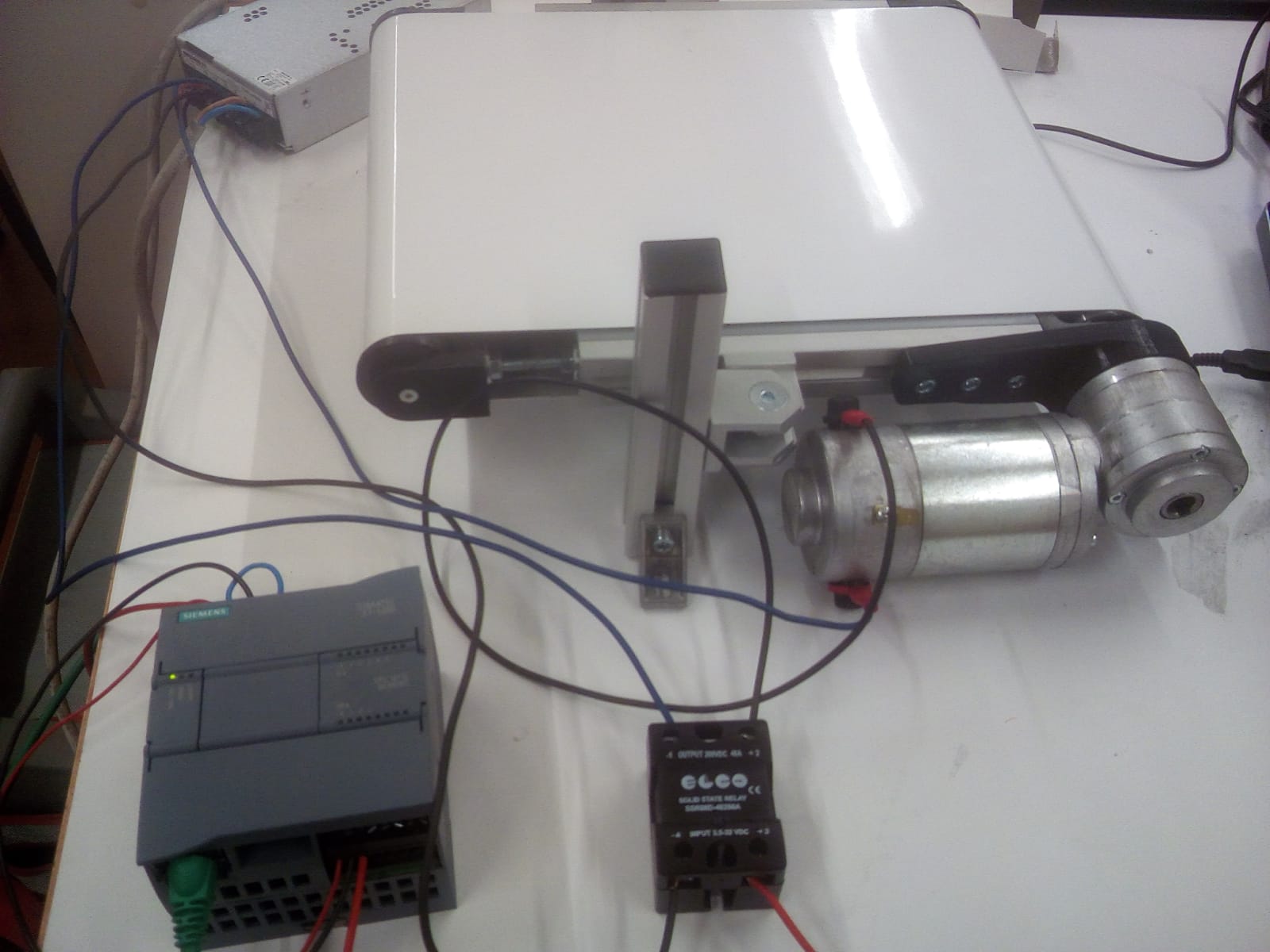 A belt conveyor speed is controlled by user program using I/O field in KTP basic panel. A solid state rele is necessary, like shown in pictures.
controllo velocita pwm_20200929_1404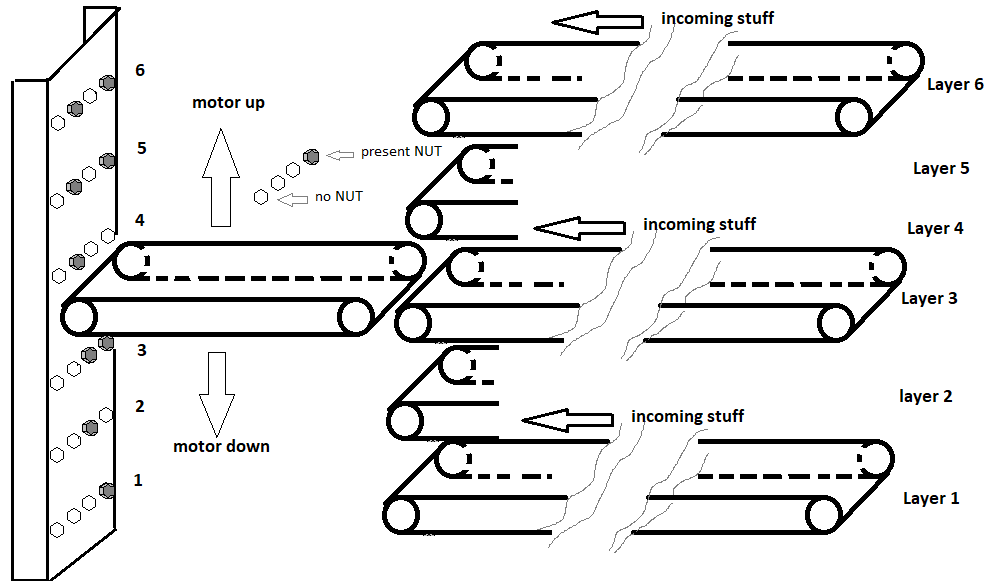 Under the moving belt, 4 proximity sensors are mounted which carry out the BDC code. On the front fixed part the threaded holes house the bolt to make a logical one, they do not have the bolt for the logical zero. it is necessary to use four digital inputs of the PLC to code the BCD for alignment with the unloading plane. Download the program from the link below to get the solution.
---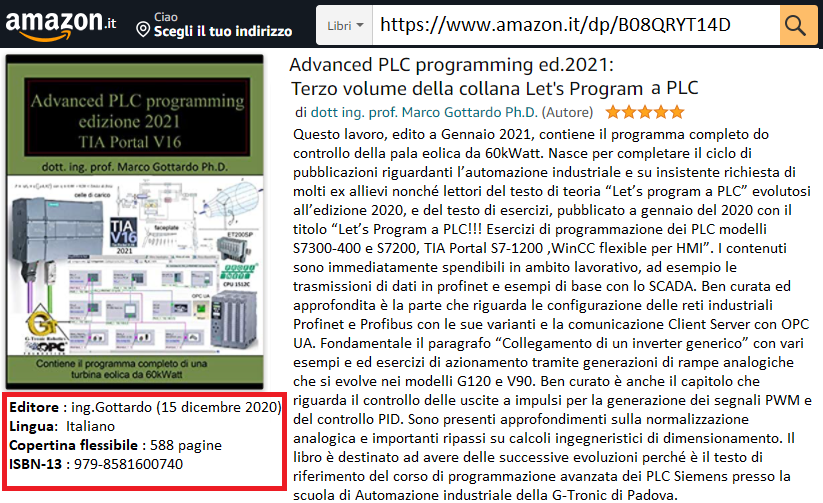 https://www.amazon.it/dp/B08QRYT14D
---
How to implement a PID temperature control.
A PID temperature controller is implemented during the advanced programming of Siemens PLCs with TIA V15.  The system consists of a CPU 1214C DC / DC / DC firmware 31, and operator panel KTP400 comfort.  A temperature control loop is created in PI mode, acquiring a PT100 and setting a setpoint.
The system must reach the setpoint and keep the temperature constant by modulating a percentage output.
Go to full explanation page -> PID temperature control page
Download full TIA V15, project->   PIDconHMI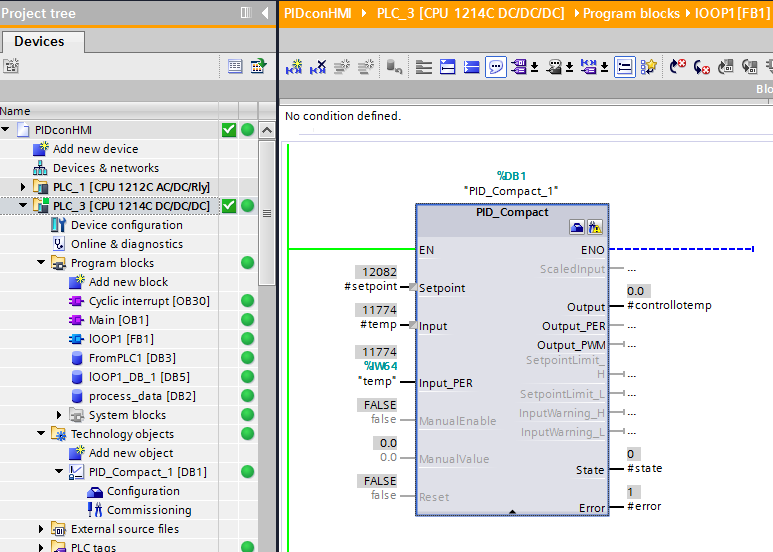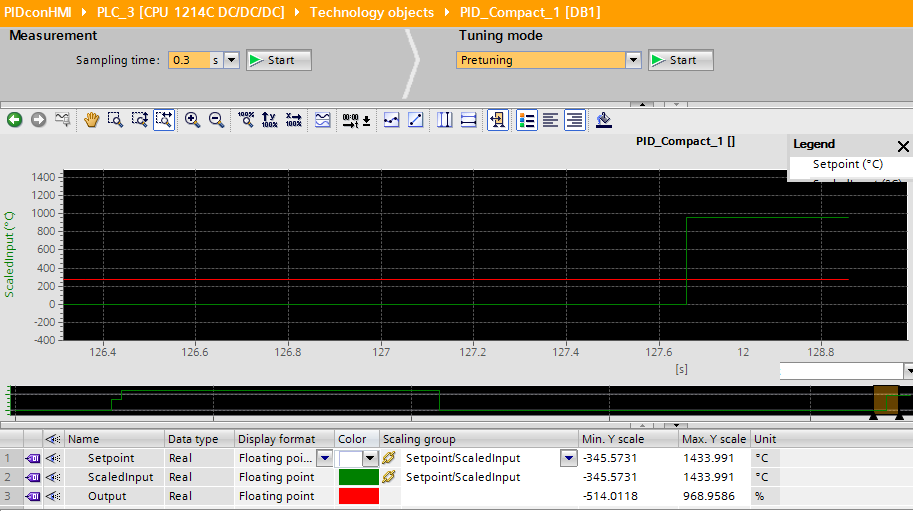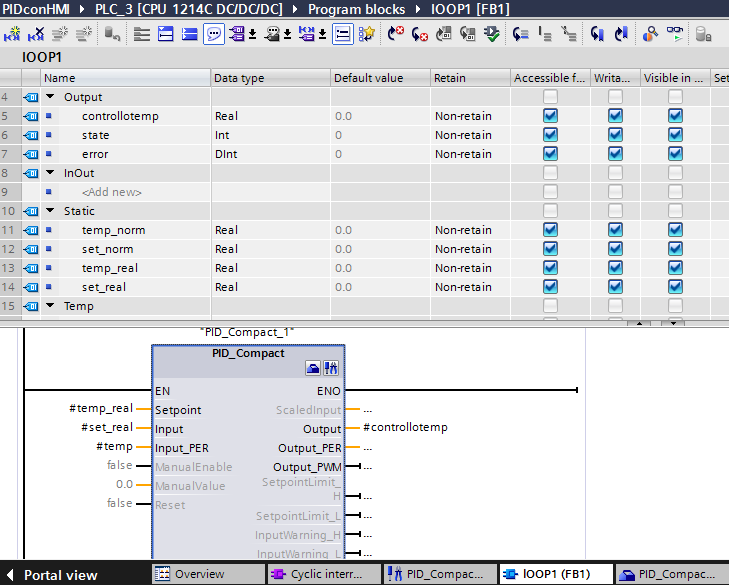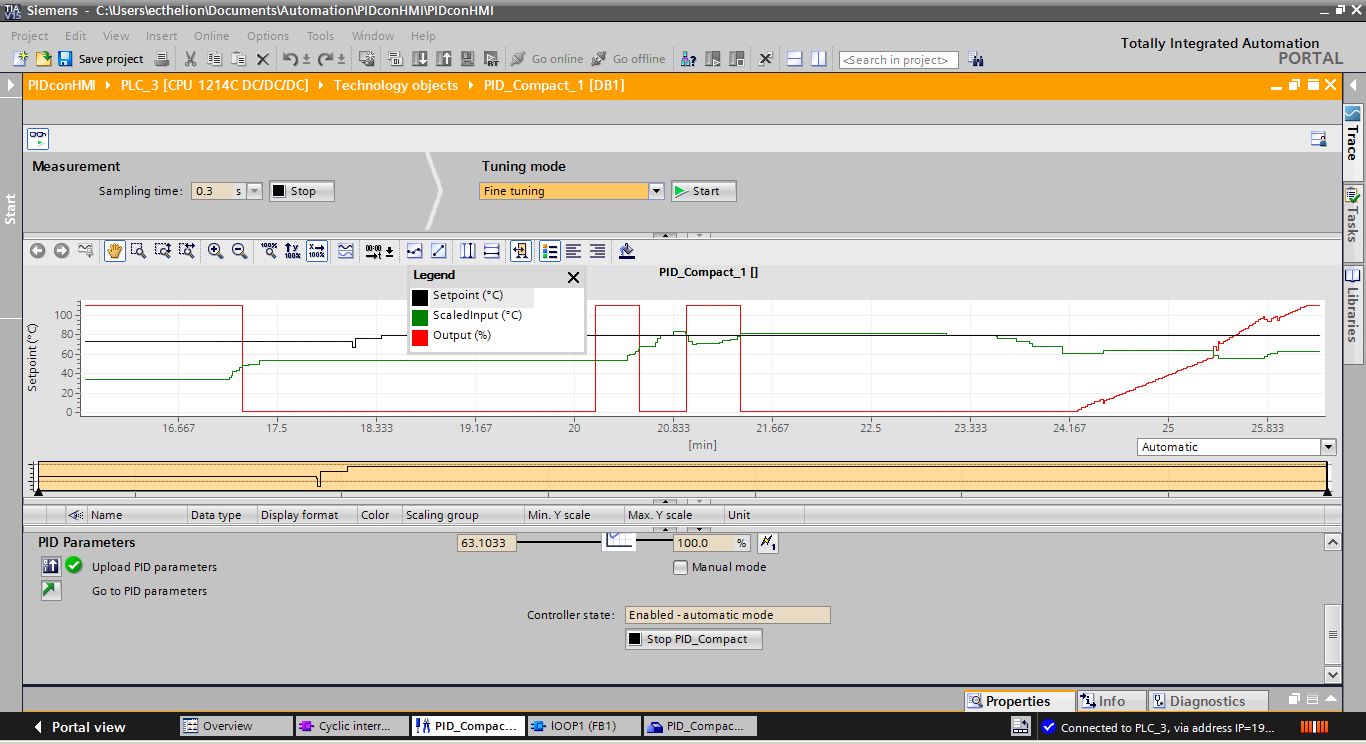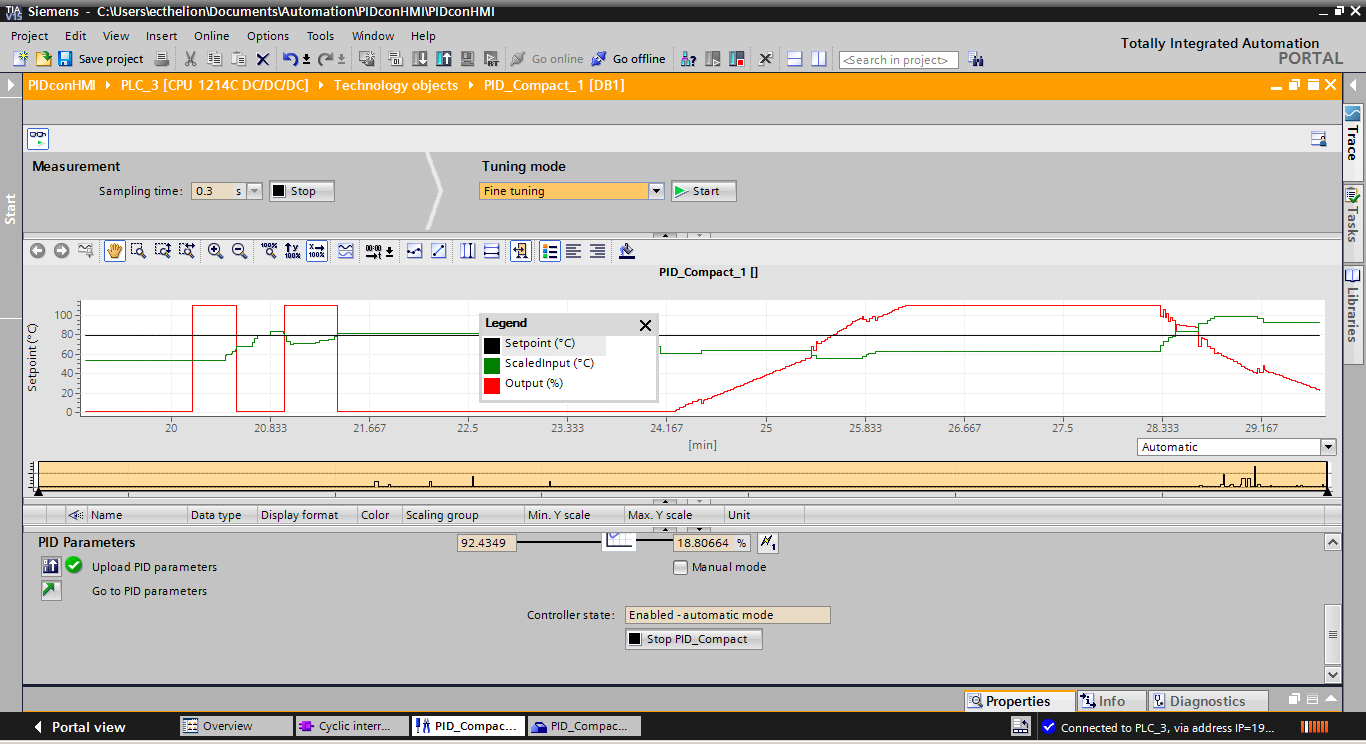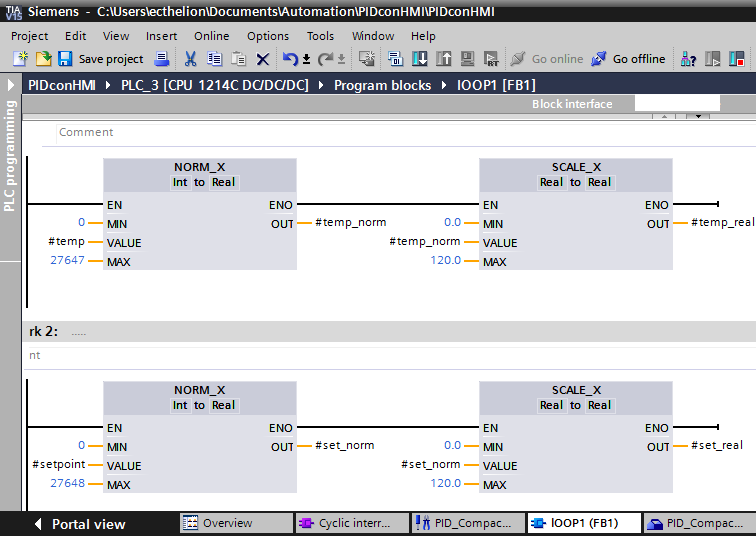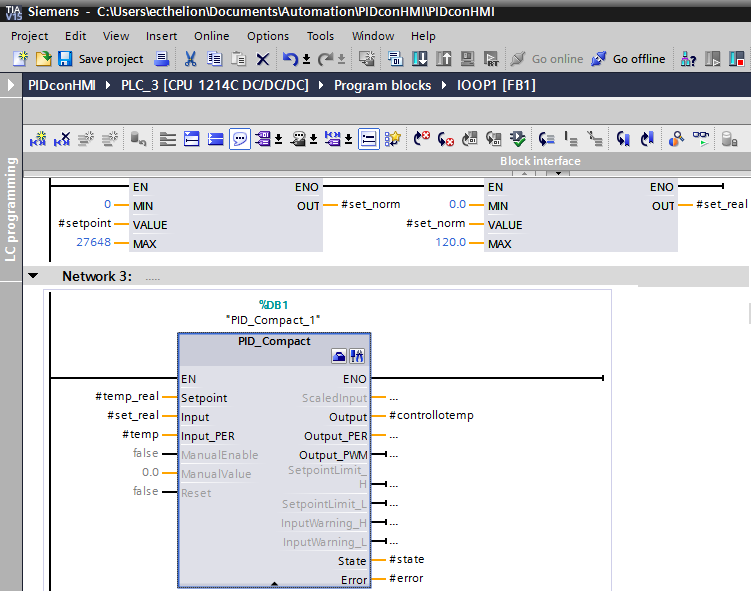 More in-depth explanations inthe textbooks available in Amazon and lulu. Lectures are available in the Padua laboratories, the G-Tronic National Automation Hub, in Via Andorra 22 or Via Quarta Strada in the industrial zone.
Lessons also available in English for students from other countries
* Full immersion, 5 days.
* Three week end, total 60 hours.
* Evening time, for local student, 50 hours, 15 session lesson 20:00-23:00
Any question at:  ad.noctis@gmail.com
www.amazon.it-> Professional PLC programming ediz. 2019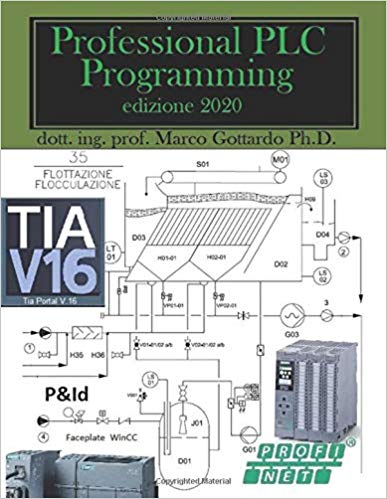 www.Amazon.com -> Amazon book -> Gottardo PLC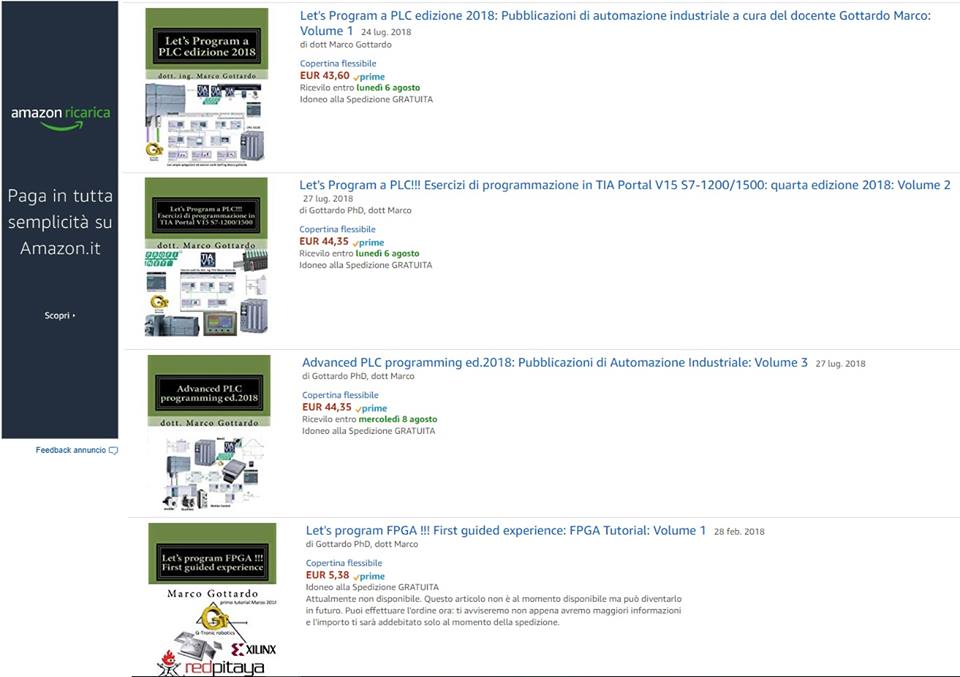 ---
Wind turbine generator
This article presents the development of a eolo generator system with TIA Portal V15, CUP 1212C AC / DC / RLY, and HMI panel KTP700Basic.
Go to full explanation page ->  Wind turbine generator
The draft of the working software can be downloaded in two versions developed separately by two students. First version of Riccardo and the second version of Leonardo.
Download Eolic generator first version -> graphic list rotazione pala
Here the immages for  the graphic list -> graphic list rotazione pala
Wind rose, one circle for wind detector -> rosa venti pala eolica one circle red triangle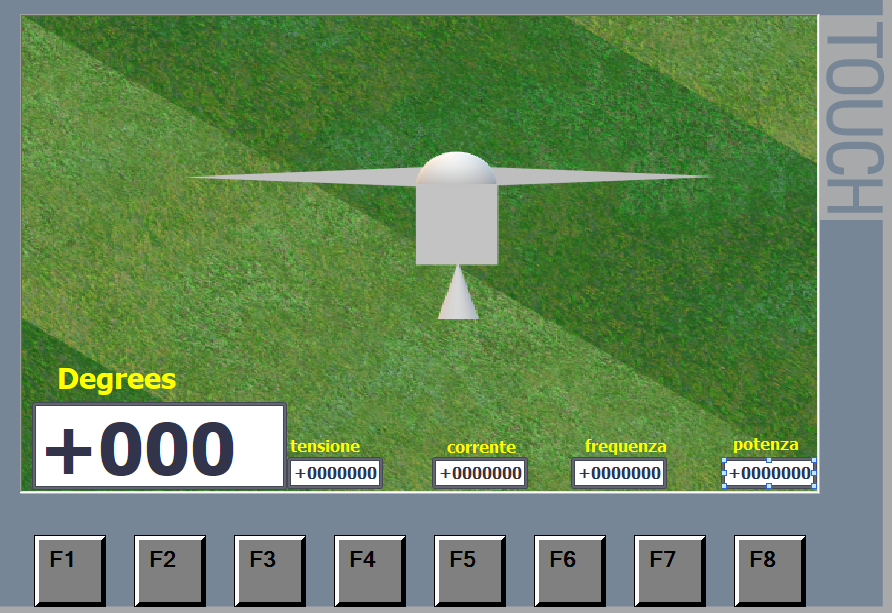 ---
How to implemento hMI recipes.
Download full program ->ricettario_20190821_2316
Download enanched version with silos ->ricettario_V16 with silos   Luglio 2020
---
How to perform a HMI Back up
In industrial plants it is often necessary to save the existing program before loading a new version.
download docx -> Procedura per il Backup di un HMI
---
How to connect a MURR Cube20s decentrate periferals in TIA V15
In these example is shown how to install a GSD files for MURR profinet Expansion