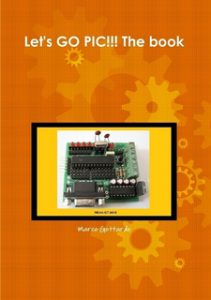 Prezzo
€ 50,10

(IVA esclusa)
Stampa in 3-5 giorni feriali
This book is the culmination of Marco Gottardo's teaching and work in electronics and automation. It is the first book in a self-teaching series that affords a solid foundation in PIC microcontroller programming. The book contains a range of fully explained problems and exercises, as well as three comprehensive essays, which are milestones for any industrial automation course. Key chapters are devoted to interrupt systems, analog signals, and LCD displays. The book looks at HITECH C language on IDE MPLAB software and on Micro GT Mini and IDE hardware platforms, which can be easily ordered online. It also explains LadderPIC, a language that enables microcontrollers to be programmed in the same way as PLCs. A follow-up, "Let's Make Robots!", will be published in December 2012.      (introduction by marenostrum research center) Prefazione-Let_GO_PIC_Gottardo-VFF
---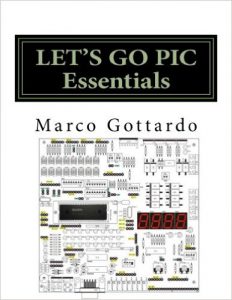 LET'S GO PIC Essentials: Now based on Micro-GT IDE and MPLAB X Paperback – October 1, 2013
$37,89   Go to solder website
After the great success of the first book "Let's go pic!!! The book" a new book on PIC microcontrollers by the same author. This book contains all you need to start to work with PIC microcontrollers in a more lightweight and easy to handle format towards the big parent "Let's go pic". Key chapters of this book are devoted to interrupt systems, analog signals, and LCD displays. The book looks at HITECH C language on IDE MPLAB X (at the moment the last version available) software and on Micro GT Mini and IDE hardware platforms, which can be easily ordered online. It also explains LadderPIC, a language that enables microcontrollers to be programmed in the same way as PLCs.
---
Let's GO PIC!!! Esempi di utilizzo della porta seriale RS232 e di pilotaggio di display LED.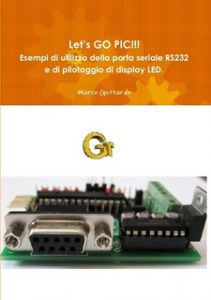 Prezzo € 11,46 (IVA esclusa)
Questo libro rappresenta il secondo passo che il programmatore deve fare per ottenere la padronanza in ambito della programmazione dei micro controllori PIC, e rappresenta il naturale proseguo della strada tracciata dal precedente "Micro PIC partenza immediata". Qui troverete due esempi ben sviluppati e commentati che riguardano la comunicazione tra PIC e PC via RS-232, e il pilotaggio di un display a 7 segmenti con quattro digit pilotato con la tecnica del multiplexer. Un apporto prezioso è stato fornito dall'allievo Simone Salvan che ha raccolto l'esperienza acquisita ad una mia lezione serale, implementando e testando il software sulla Micro-GT versatile IDE prima di presentarla in queste pagine.
---
MicroPIC, partenza immediata ( seconda edizione )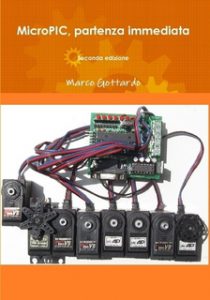 Prezzo € 5,20 (IVA esclusa)
Il libro è una esauriente introduzione ad un'opera molto più vasta dal titolo "Let's GO PIC!!!" disponibile su www.lulu.com Verrete guidati passo/passo nelle prime esperienze di programmazione in C per i dispositivi MicroCHIP. Sono compresi molto schemi e suggeriti molti trucchetti e scorciatoie.In questa revisione include la piattaforma Mplab X
---
  Primi passi con i PIC sul sistema Micro-GT mini.        
Prezzo
Gratuito  (il sito di vendita richiede solo la registrazione per il download)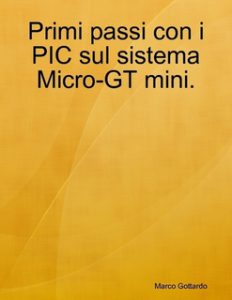 Introduzione ai metodi e agli strumenti essenziali per la programmazione dei microcontrollori PIC. Il testo descrive i primi passi da eseguire ma anche le piattaforme oggi più idonee per lo sviluppo di programmi anche a livello professionale. Per i docenti delle scuole superiori è un ottimo punto di partenza per orientare i laboratori a preparare gli studenti a una modernissimo e molto richiesta professione.