This article presents the development of a Aeolian generator system with TIA Portal V15, CUP 1212C AC / DC / RLY, and HMI panel KTP700Basic.
The draft of the working software can be downloaded in two versions developed separately by two students. First version of Riccardo and the second version of Leonardo.
Wind turbines take the wind's kinetic energy and turn it into mechanical power. The turbine's rotor is connected to its generator, which is located in the nacelle. Many turbines today have three blades, while some have two. Blades, in any case, the single blade can be oriented so as to change the lift of the air flow. The lift at the blade determines the motor torque to the rotor and depends on the flow rate.
To control the wind turbine we need:
electric motor for nacelle positioning according to the wind direction detected by vane. this is connected to a wind vane that moves an encoder.
hydraulic piston brake that blocks the nacelle in the wind position.
electric motor for pitch correction.
electric motor for blade inclination control. in case of an emergency wind too high they are placed in the flag inerted mode.
Analogic anemometer for wind speed control, closes the control ring on the inclination of the blades.
Voltmeter ammeter frequency meter for checking the electrical parameters to the static converter or to the electro-generator unit.
Download Eolic generator first version -> graphic list rotazione pala     Aerogeneratore_20190918_1654
Here the immages for  the graphic list -> graphic list rotazione pala pala eolica_1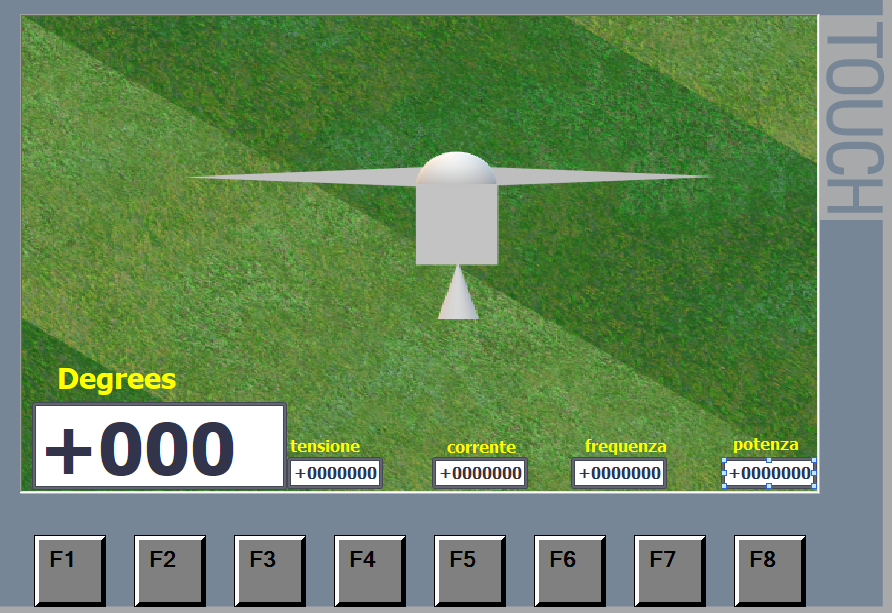 In the video the version created by the student Riccardo. The image shown in the HMI represents the central body that orientates itself in the wind direction.
The second encoder acquires the speed of the impeller and is scaled to represent the frequency generated by the alternator.
In the numeric fields the voltage, the current, the frequency, and the power generated are normed and scaled.
This draft program can be used for scholastic theses but also for real works.
Second verision:
Solution created by the student Leonardo Boato, Padova Italy.
Download the grapic list files ->pala eolica_Leonardo
The G-Tronic private school also operates  in English for students from all over the world. You can book your training by writing to ad.noctis@gmail.com (no upfront payments are required).
Full explanation and program in the book: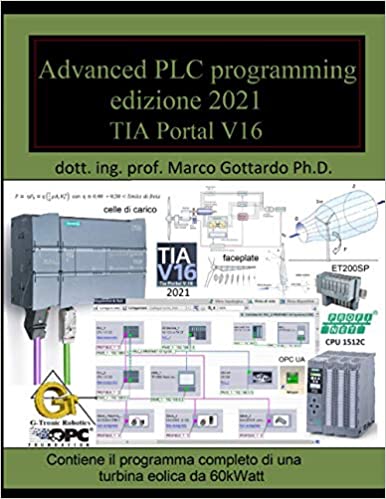 Visit the book store in Amazon to buy it   Advanced PLC programming ediz 2021
School book, collage and university level, in English for USA, UK, AUS, etc.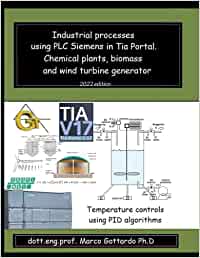 Visit Amazon Prima book store for info buy these book